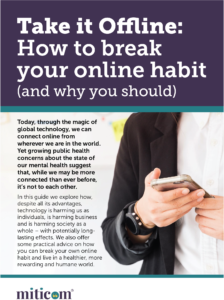 There is growing evidence that, despite all its advantages, technology is harming us as individuals, is harming businesses and is harming society as a whole – with potentially long-lasting effects.
In our latest report we look at how recent research supports these claims and what the implications are for us all. We also offer practical advice on how you can break your own online habit and live in a healthier, more rewarding and humane world.
The report is called Take it offline: how to break your online habit (and why you should).
You can download it here.